Back to all posts
Posted on
Golden Hills School Division to recognize National Day of Truth and Reconciliation on September 30th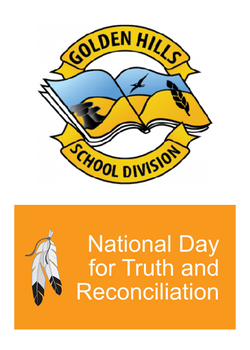 The Government of Canada has proclaimed September 30th as a Federal National Day for Truth and Reconciliation to commemorate the residential school survivors, their families, and communities.  This National Day encourages public commemoration as a critical part of the healing process for all who experienced this tragic and painful history. The Golden Hills Board of Trustees and Administration support strong and positive relationships with Siksika First Nation and all our First Nations, Metis and Inuit families in recognition of this important national initiative for Indigenous peoples and their well-being.  
In recognition and with a commitment to calls of action to address reconciliation in Alberta, Golden Hills School Division (GHSD) will support this important initiative by recognizing Thursday, September 30, 2021 as a non-operational day.  The Board of Trustees approved the amendment to the Division Calendar on September 6 during a Special Board Meeting. This means there will be no classes and schools will be closed for the day. Central office will also be closed. 
From September 27 to October 1, 2021, GHSD schools will be able to participate in Truth and Reconciliation Week. Schools will be encouraged to register for the Truth and Reconciliation Week events and participate in Orange Shirt Day on September 29, 2021. 
"We look forward to the opportunity to work with our Siksika First Nation partners in the support of Truth and Reconciliation and meaningful learning for our students," says Board Chair Laurie Huntley.