First Nations, Metis and Inuit (FNMI)
Grad Pow-Wow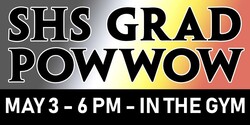 Grad Pow-wow is open to anyone who would like to attend.  Mrs. Breaker and the SHS FNMI students spend a large part of the year preparing for this amazing event.  It is a night full of amazing culture, beautiful dancers and awesome drum groups.  Pow-wows are a time to share and showcase First Nation culture and supporting SHS graduating students!
An annual fundraiser for this event is the Taco Sale.
SHS FNMI Representative
2022 Miss SHS Princess - Hadence Many Bears

Another Strathmore High School Princess Pageant is in the books! The candidates were Elianna Breaker and Hadence Many Bears.  They both have bright futures ahead of them and I know they will pave the way for more young ladies to take on a leadership role. Congratulations to the new Miss SHS Princess 2022 is Hadence Many Bears!  Thank you to our two past princesses Miss Darian Breaker and Miss Daelynn Waterchief.  They represented SHS very well
Chief and Council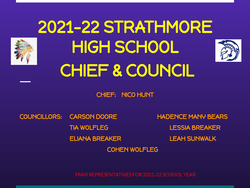 Every year Mrs. Breaker chooses FNMI students for SHS Chief & Council.  Teachers can nominate FNMI students.  These students would benefit from an experience of a leadership position. Students will present to a selection committee.
Treaty 7 Commemoration of Signing
On September 22, 2021 it was the 144 anniversary of the signing of Treaty 7.  This day is a day to educate students of facts that have been an outcome for the last 144 years.  Mrs. Breaker made a brief presentation for students to learn about what has happened since.  
Grad Pow-Wow